Interviews
Sounds from the grave (Interview with Tombstone, Jakarta)
The aesthetics of the Tombstone's debut album "The Awakening of Darkness" was one of the reasons I've picked it to have a listen. And after I've finished listening, there was not really a doubt I'd like to ask those Jakarta black metallers a questions or two (ehm..ok, more than two).
Selamat pagi, guys, and thanks for your time doing this interview!!! I hope you are all OK over there in Jakarta (considering the still prevailing Covid-19 circumstances)!
Good day! Yeah you too! Stay healthy and metal wherever you are!
First of all, I have to mention there's not that much information about Tombstone online. But the very first one interesting thing to notice is – although your band profile on Encyclopaedia Metallum states you're a trio, your Bandcamp contradicts this info stating you're only a duo. So, to solve this riddle…can you introduce yourselves to our readers?
Tombstone originally has 7 members in the beginning (we used to have a keyboard player and a female backing vocal). We've been through member splits and hiatus in our journey. The hardest part of it is somewhere between 2008-2012. Several members joined another band, moved to another city, and focused on their study. We think that's the only best photo we have while the rest of band members are still here at that time. We actually cropped it because now the active members are only two of us (Ardi & Haikal). That transformed us from a band into a duo.
Sometimes I am amazed when exploring the Indonesian scene noticing that many bands have a really really long history, but this is not reflected by their discography. I think Tombstone is a nice example of this – according the information available the band was founded in 2005, but you released your debut only in 2020…why so a long period going without any official release? Was the history of the band so complicated? Or have been there any other factors?
Tombstone is started as a Black-metal project in 2005 (our high school era). Well, at that time we mainly focused on live performances. We went to many local gigs; from the strangest one to the best one. After a long journey with members split and hiatus, the rest of band members think that Tombstone is still the best name of a black metal band that should exist and stay alive! (Besides many similar band names, Tombstone is the only black metal one). It's about time to "wake up" in 2020: pandemic era, everybody is at home. We try to be productive by re-arranging our old music that never been recorded before and writing new tracks for the album. It was going to be a big surprise especially for our former members and Indonesian metalheads whoever know there is a band named "Tombstone" here. So, we tried to make a great debut after a complicated timeline.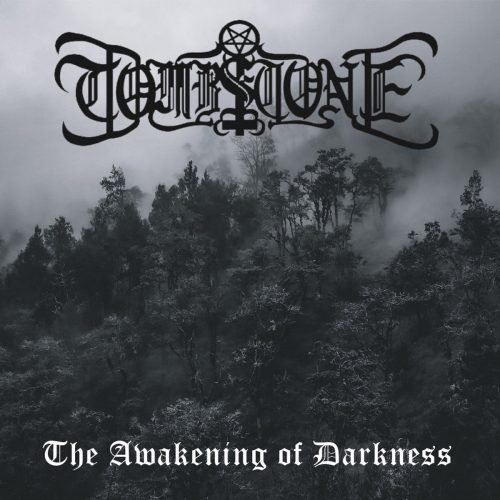 By the way, congratulations to the release of your debut album "The Awakening of Darkness"! I know, I know…I am little late to the party, but it changes nothing in the fact that it's really a nice album. I like everything about it – the aforementioned aesthetic of the cover (which, I guess we would agree, pays the beautiful tribute to the Scandinavian releases from its heyday of 1990s), the music itself…even the song titles!
So, if somebody unfamiliar with your music would ask – how would you describe your music and your album? In your own words?
Black Metal with touches of Doom, Thrash, a bit of Melodic Black Metal. But in general we prefer to be called our music just "Black metal".
From listening to the album, I guess the songs it contains comes from different periods of band's existence, am I right? I have to say I am partial to tracks like the opening "False God", I like the voice style here, it reminds me a little of Aaron Stainthorpe (My Dying Bride)…but what about the "Secret of The Moon From Carpathian Forest"? How did the band from Jakarta end up obssessing about the region of Carpathia?
This one is also a song written in our start of the journey, when there were 7 of us and influenced by the legendary Cradle Of Filth. Our singer was so obsessed with Dani Filth and Dracula. He watches Dracula's theme movies at that time. History says that Dracula has a castle somewhere in Carpathia region. That what's inspires him to write "The Secret of The Moon of Carpathian Forest".
Another song I'd like to know more about is "Hamunaptra". I guess this one relates to your local lore/history…can you explain it in a more detail for me and the readers of Indokult, please?
The story behind "Hamunaptra" is a bit funny. We wrote this somewhere in 2006 and performed it at many gigs. And you know what? Even Haikal as the songwriter totally forgot the lyrics! He only remembered that the song is written in 3 languages (English, Italian, and some Latin). We actually recorded the song in 2015 and re-arranged it for the debut album. Hamunaptra is inspired by "The Mummy" movie (1999) which means "The Dead City".
The album was originally released digitally and on CD in August 2020. What responses have you received for it? Looking at it now, how satisfied are you with it today? How would you rate your co-operation with Deathwish Records who released the CD version?
We are surprised that the response is pretty escalating since its' first release! Deathwish Records helps us to release in CD format, and Kult of Belial Records releases it in Cassette format. This is awesome that so many people bought our CD from everywhere in Indonesia, even Malaysia. However, we still have problems with the distribution outside our country since the shipping rate is too expensive for our fans out there. Especially in Europe, many people ask us to get the physical album and other merchandise but again the problem is the shipping rate is too pricy.
Again, from the available information I see the tape edition will be released in Europe later in May, 2021 (via World at War Records from Italy). That brings me to a question – do you have many fans in Europe, or, let's say, outside Indonesia?
We hope so! World at War Records helps us to spread our music to our fans in Europe, and it's a good move! However, the plan to release Vinyl is postponed due to many reasons. So the Cassette format is chosen to be released by WaW Records. Hope for positive response from this release.
"The Awakening of Darkness" in Vinyl (LP) format is also a great deal to be published in Europe. We also hope that we can release our music in different format.
The album is out, the work on it it's done and finished… have you started on a new songs already?
We try to stay productive in this pandemic era. We listen and gather any prospective inspiration for the new record. Hope we can explore new ideas and concepts to be applied for our new songs in the future.
I guess you're not looking at playing live, do you? Or am I mistaken?
We are thinking about not to perform live anymore. But anything can happen in the future.
I already know Jakarta scene is rich with bands from many genres, do you keep in touch with local bands? And talking about bands…which ones would you recommend for an interested reader to give a try?
We would recommend Warkvlt , Pure Wrath, Vallendusk, Mankind, and Dusk In Silence (check the review for Warkvlt and the interviews with Vallendusk and Dusk In Silence – editor).
Coming to the end of the interview, what's in store for Tombstone for the near future? Anything we can look forward to?
SPOILER ALERT!!! We are now in the studio for the next album! We plan to have the second record and maybe a split project with another black metal bands from Europe! Maybe some of them are interested with the future split project.
Any final message to the readers of Indokult?
Interesting interview with Indokult. Thank you so much for having us! I think you should build a great concept for the platform (Web, social media) like making an online interview or album review on YouTube channel, maybe? You can also make collaborations with Indonesian metalheads to create contents in Indonesian language (since the name of the platform is Indokult, and it's awesome!). Good luck with that!