Interviews
From the first, through the second – to the Third State (an interview with Luqman Hertanto Herman)
How many genres we have to go through here in the Indokult? I hope there will be a lot of them still. And while I am all for many, deep in my heart I probably will be a rock/metal guy forever. So, I believe it's time to give a shout to some rockin' band from Indonesia!
I've found Third State thanks to the Facebook post by Ivan F. Devota (whose albums I've reviewed here and here) and the single "Dua Kutub" has clicked with me straight away. It was a no brainer to get in touch with Luqman, the singer of the band, and in him I've found a really nice person to connect to!
Well, what to say – Indokult's mission is to promote Indonesian music and movies and true to this, I am glad I can present you this interview with Third State. Welcome, everybody!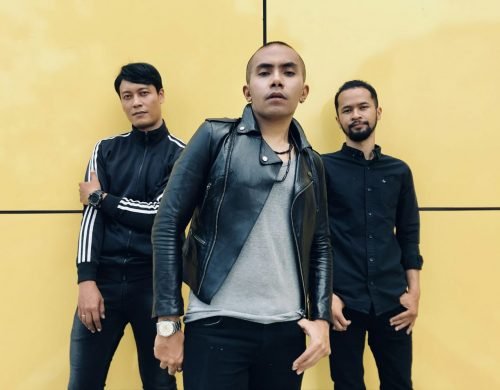 Halo, Luqman, apa kabar, saudaraku? I hope you all are OK, also your nearest and dearest! Thanks for your time doing this interview!
Yeah, Rudolf, my brother, we are (Luqmam, Onel, and Rangga) ready for this great interview.
Before we're going to dig deep into the history of the band, let's talk about your latest single "Dua Kutub". By the way, there's a funny story here with my mistake while posting the post on Instagram, where I mistyped "Kutub" as "Kubur". Those speaking Indonesian know that the difference is quite a big, haha (for those not speaking bahasa, "kutub" is "polar", "kubur" is "grave). Anyway, with the single being out for a few days now, what response are you, guys, getting for it? On my part, I think it's fantastic!
Haha… response from audience? There are many kind of response about this song with many interpretation
The style of the video – you walking in a front of the camera, reminds me of The Verve's "Bitter Sweet Symphony" a little. For those who don't know, what is this song about? Does it have any personal reference to anyone specific?
Yeah.. we know that song.. that's a amazing song from The Verve.. By the way, Dua Kutub is a song that tells about a person who has a mental illness. This song also tells about the relationship between two human beings where one is normal and the other is suffering from mental illness, and both accept each other. If you notice, in Indonesian language Dua is Bi, and Kutub is Polar, so Dua Kutub is Bipolar in our terms, haha. The mental ilness referred to in this song is Bipolar.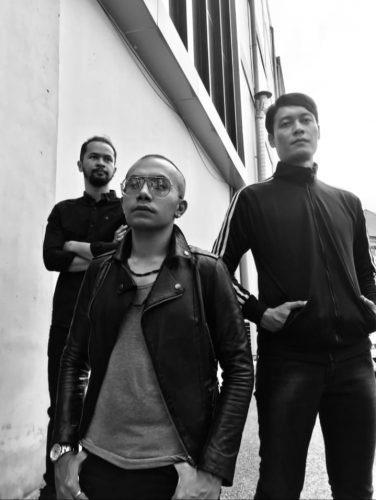 You are a bassist for the band, but the video presents you more like a frontman/singer for the band. Does it indicate you're gonna switch position from bassist/singer to a solo/frontman? If so, do you have a replacement for the bassist already?
Third State consists of three members, Luqman Hertanto (Lead Vocal), Rangga Primawidya (Guitarist), and Onel Susanto (drummer). We didn't have a bass player in this band, so Luqman also filled in the bass tracks when recording in every Third State song. And for next live performance maybe Luqman will sing and also play bass too in one time.
OK, let's go to the band's history now…well, the pre-history first 🙂 you've been a bassist for the band Sylvia (according to my good source, hello, Ivan! 🙂 ) Was this band your very first music band? I can't find any information about it, so I need to rely on your memory here…
Sylvia was Luqman second band in his professional music career hystory, after Mathemusic. If we sorted from the first, his band is Mathemusic, Sylvia, and the last is Third State. Luqman is a bassist on Mathemusic and Sylvia, and then he make a decision to be a lead singer in Third State.
What happened with Sylvia, that you started to play with Third State, how did this new band form? From what I can say, the band had 4 members originally, right? Why the change?
Sylvia has been vacuum or maybe non active since 2016. And then Luqman founded Third State band at 2017 untill now with Experimental Modern Rock concept.
Our first formation consisted of three members, Luqman (Vocal and Bass), Ijal (Guitar), Ferry (Drum). Second formation consists of Luqman (Vocal), Ijal (Guitar), Popo (Guitar and Producer), Adit (Bass), and Onel (Drum). Third formation consists of Luqman (Vocal), Rangga (Guitar), Onel (Drum), and Ovi Madia as an additional bass player. And then the new formation consist of Luqman (Vocal and Bass), Rangga (Guitar), and Onel (Drum). We started the band with three members, in the end it came back to being three members again, haha..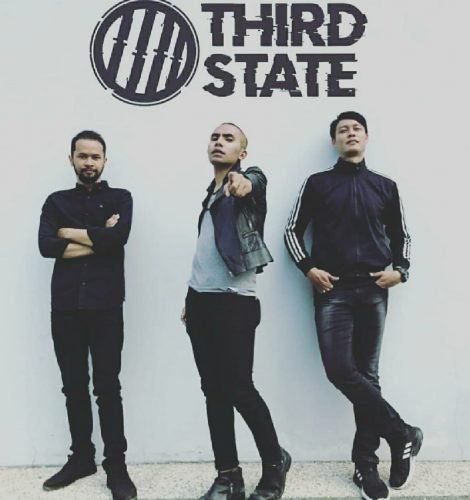 Also, if I am not mistaken, you have a new guitar player, Rangga. What can you tell the readers about him? I know originally he was a member of Henohenomoheji…what else you can tell about him, and why did you want him in the band?
Yes, Rangga is the newest member of Third State. He was a guitarist in the Henohenomoheji band. Luqman has long been friends with Rangga and idolized his guitar playing since he was at Henohenomoheji. And then he resign from Henohenomoheji, and then Ivan Fabian Devota joined to Henohenomoheji. After a long time no see, Luqman invited Rangga to join Third State. The reason why we want Rangga in this band is just because he is a great guitarist and he loves Third State songs, hahaa
I've reviewed your EP "Entropy" from 2018, so I am pretty aware of your music back then. And it's pretty different from your musical style as presented with "Dua Kutub". From the beginning you have more of a (nu-)metal influences, right? So, what music have you been influenced by while creating that EP? Also, I've noticed a wall with British flag stickers in the beginning of "Dua Kutub", and I guess the influences of britpop in your latest single is quite undeniable. Would you agree?
If we look back at our genre, experimental modern rock is the genre we have chosen. We don't really like making songs the same color between songs. We love the variety between our songs. That's why we experiment in each of our songs. If you look at our EP Entropy, there are many sub genres in it, there's grunge, Nu Metal, pop, ballad, but the basic roots are modern rock. In the song Dua Kutub, we actually tried to pop a little bit, and there were no British influences in it. But there are people who feel the song Dua Kutub sounds like a Britpop music, haha. Maybe this is a sort of a coincidence. And the British flag sticker at the beginning was just studio property, because the studio owner was such a British fanatic, hahaha.
I think the strong feature of Third State are slower songs, or ballads, as witnessed by "Selamat Jalan" from the EP "Entropy" and the already mentioned "Dua Kutub". We've discussed this a little in our chat, but for the record – how important is to have bahasa Indonesia lyrics?
Ya .. On the Entropy EP, the song Selamat Jalan is the most distinct and most Dramatic song. It just flows. In making songs, until now we only made it in two languages, there are Indonesian and English. We decided that a song should be performed in Indonesian or English, according to the mood of the song and the vibes of the song. Like the song Dua Kutub and Selamat Jalan, we feel that this song is better if it is presented in Indonesian, while other songs such as Everlast, Am I Legend, and Exile are more suitable to be presented in English because the mood is more that way.
Continuing from the previous question…Obviously, bands have English lyrics to try the international waters, which is only commendable – but not knowing anything about the Indonesian scene, how hard is it to get popular (so to speak) within Indonesia itself?
Honestly we are tired of chasing popularity. We make a song at Third State only to pursue satisfaction in music without restrictions. We do not really pursue popularity and wealth. But if it happened, it was a bonus. So, let it flow.
Going back to the band – is releasing the single a sign of an upcoming album? If so, when can we expect its appearance? Anything you can tell us about it, please?
No, we decided to release singles and singles. To make an album requires a lot of money, so far we have done everything ourselves and at our own expense. Unless there are investors who want to fund us to work, why not? Hahaa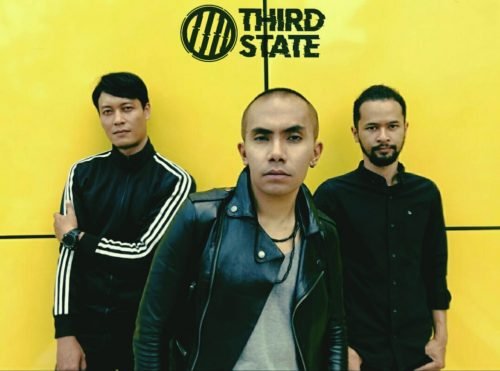 There are a few live videos of Third State, so you are no strangers to playing live. Any live shows scheduled for the time when the current pandemic situation is over?
No, we are not awkward to perform live. We are entertainers, so live perform is part of our activities. During a pandemic like this it's a bit difficult for us to do live performance, except live streaming. But we are bored with live streaming, we need a face-to-face live event with the audience, because the energy of live performance cannot be replaced by virtual.
As usual, I am always looking for a recommendations for other good bands/artists you might know, either from your local area or nationwide…what bands/artists do you want to give a shout out to here?
I will recommend genre by genre:
Ethnic Scene : Duowedalsenen or Lalakon
Neo Soul Scene : Agis Kania
Pop scene : SHE band
British Scene : Pop Division band
Coming to the end of this short interview..any final message to the readers of Indokult webzine…
Music should be unifier of human race, culture, religion and life. So can we just life as one?
Don't forget to follow us on Instagram at @third_state_band and subscribe our Youtube channel at Third State Band
Thank you so much!
Terimakasih untuk wawancara ini!!!!