Oh, how time flies! I have to admit I've neglected basically all my work since the holidays last month, I wouldn't never thought how hard it was to get back on track! Anyway, the holidays are long gone, so it's time to stop procrastinating and do another round of exploring of the fantastic world of Indonesian music.
And rightfully so, because today I am listening (although not for the first time, I have to say, I've given a few listenings to this record already) to this interesting 2021 self-titled album from the band called 9 Volt and with the portion of the good old fashioned melodic rock I am not surprised they hail from Surabaya, the city known for their melodic metal scene.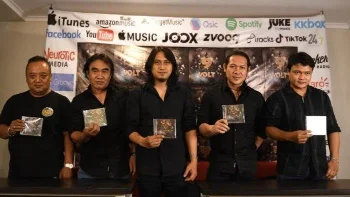 I am not sure if it's by the intent, but the number 9 is not only in the band's name, but 9 is also a number of tracks you can find on this album.
All songs are sung in Indonesian (although "Forbidden Love" do have some English lyrics), except the instrumental "9 Dimensi", and I hope that this is not a problem anymore! I hate that many bands, in the effort to break through on the international music scene, have to make special arrangements with English lyrics just to appease some dumbasses who can't appreciate anything but English language.
OK, that's my ventilating my ocassional frustration. Back to the album, you can tell the musicians responsible for this record are all seasoned veterans, and while I've called it a melodic rock, it's more hard n' heavy and not really straight-forward – you know, 4 chords and off you go. No, guys offer a nice selection of variability, while maintaining the melody within. I am struggling to come up with the comparison to more known artists, so to give you an idea how they sound like, but I am failing.
My favourite is without a doubt "Sang Burung", evoking a welcoming spirit of Christian rock band Petra and their 1997 album "God Fixation" (I used to listen to that one on repeat back in the day) with some song patterns and I can't but nod in the satisfaction.
Check the album on Spotify here: https://open.spotify.com/artist/1DIETiGwo0MBjYcpEGPF7d?si=PSuaQ2SgQK64RrejuPDbKQ
9 Volt on Instagram: https://www.instagram.com/9volt_indonesia/