Interviews
Meeting your favourite aunt – Tante Lucy (band interview)
It should go without saying, but first, let me thank you for your time answering my questions
for this little interview. How are you doing these days, guys?
Hi Rudolf! Thank you for having us. We are doing really good preparing for our first album and hoping to launch it at the end of the year.
For those unfamiliar with you, what can you tell us about the beginning of the band? How did you, guys, get together? Have you known each other from previous bands? And to place you firmly on the music map – what Indonesian city do you come from?
The band Tante Lucy started with Marko, who had an idea to play a new and different genre since he has been in the grunge scene (and still is) since 1998. He started with Andi on drums because they used to be together in a grunge band. They've both jammed together – without a bass player – for awhile and then decided to find one, so they made an ad and posted it on Facebook.
After 2 months, Reza saw the ad and replied back, asking for an audition. They've finally got together, jammed in the studio, and easily without a doubt, Reza has become the bassist for Tante Lucy.
So, the music was rolling nicely with the 3 piece set-up until we've started to think that perhaps an additional second guitarist was an awesome idea. So Marko thought of Jay, and so then Tante Lucy had become a 4-piece band.
3 months went by, and Jay had to leave the band due to urgent personal reasons. Then one day, Stanley, Marko's buddy, who is also a fan of Tante Lucy was in contact with Marko and happened to ask if he could join the band. The timing couldn't be any better right?…Hahaha.
So, Our first show was at Bekasi, Gladiator. Unfortunately after the gig Andi left the band because He had other priorities that needed to be focused on.
Next, Osel was recruited and joined the band wagon.

The current line-up is as follows, and it is going really well…YES!
Marko (Vocals)
Reza (Bass)
Stanley (Guitar)
Osel (Drums)

By the way, We all live in the same town, Jakarta.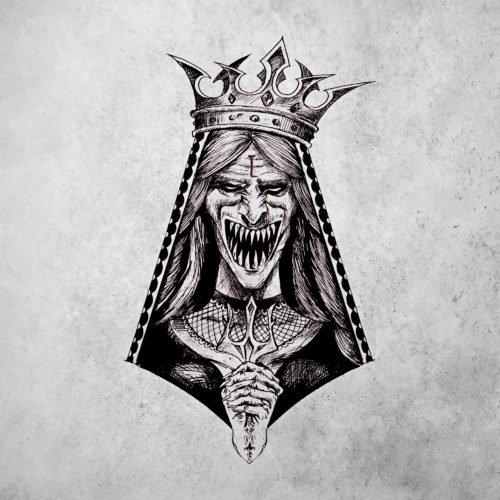 Tante Lucy is quite unusual name for a metal band 🙂 How did you end up with it? And, also, not to forget – what about the iconography the band uses? I mean, the logo with – what I suppose is – the possessed nun from the movie The Nun and the mask from the movie Demons? I guess you are big horror fans, is that right?
In regards to the story behind the band's name itself is actually from the angel Lucifer. Instead of using the whole name, We just use the Lucy and add Tante, (Aunty in English) before the Lucy. So now it is Tante Lucy, (Aunt Lucy).
Speaking of iconography, the idea came from Valak as Reza is a Horror movie fanatic. Reza came up and drew the logo while stuck in the middle of Jakarta's traffic. As you can see, the logo is a modified version of Valak. We also have a second Typography Logo which is based on just the 2 letters, T and L. (See attachment)
If asked about the music genre you play…what would you say? Where in the multitude of genres could we place Tante Lucy?
Nice question! Some said we were a nu-metal band, while others said that we were metal rock, etc. The truth is – we play what we like and put it all together on all of our songs.
So, we finally came up with an answer for this frequently asked question about our genre and that is: We are ALL AROUND METAL.

Obviously, you are still a very young band, however, the question is – do you have any material ready for release, either as a demo or the original release?
Yes absolutely. We have already launched 2 singles on most Digital Platforms. Out first single and Music Video, Devil's Whisper, is published on our YouTube channel. Below are the links to our materials that are already available for you.
1st Single (DEVIL WHISPER) : https://open.spotify.com/track/6uhTiT2q4UQoxPE38WHaEu?si=1de692c9839d4826

2nd Single (YOUR DREAM ENDS HERE) : https://open.spotify.com/track/1XOTVKRBX31i9KNYX3qg4k?si=c1af36b721574159

Devil Whisper (music video):
https://www.youtube.com/watch?v=IndLZ9OFWQ8
I know you are featured on the upcoming compilation from SOUNDLOCK RECORDS, Peace Now Or Die #2, can you tell us some more info about how did you end up taking part in it?
We have contacted them and applied to be included in the compilation.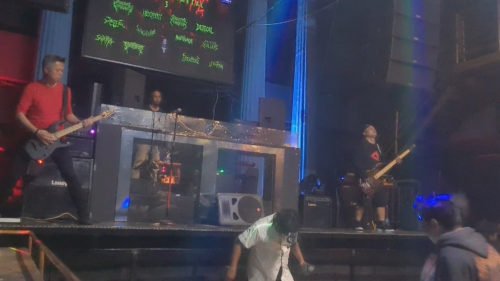 March 2022 you played your first gig, along with the bands like ARC YELLOW, THE NORTH PALM, SENGAU, PARANOID NOISE, VERN and others – how do you recall that important first concert?
First Gigs are always the important ones right?…Haha.
First time playing in front of people is very exciting and can be very nervous at the same time.
But most importantly, it will show and tell us the the chemistry bonding process within four of
us and We also got to know more about each other's characters and personalities musically.

You've already played two live gigs in 2023, one for Adi Nugraha on January 14th, and the
other on January 22nd, along with such great artists like AMNESIA, MURDER KILLER, DYING SOUL, KREMATIST, SLAUGHTERION and DEITICAL, among others – would you say your place in the local scene and the Indonesian underground is getting stronger?
We do hope and believe so. Our main focus is creating songs that would make great impacts to the listeners all around the globe.

Obviously, we've just started the new year, but time runs so fast…what plans do you have for this year? Our big plan for 2023 is to finish our album and to make more music videos.

Band merchandise is very important for the promotion, are you working on some items to
offer your fans? If so, how can they get them?
We will definitely launch our merchandise after the album is finished and released. We are (have been) still in the creative process on our merchandise items.
As we all know, Indonesian scene is very big, bands starting almost every day (and I guess I'm not exaggerating) – what bands/record labels/distros from your local scene would you recommend our readers to check?
We do recommend labels Blackandje and Demajors.


Coming to the end of this interview…any finall message to readers of Indokult?
Hi we are from Tante Lucy! we will make your head "Kleyeng Kleyeng"!!

Band contact: https://www.instagram.com/tante_lucy666/