When life gives you lemons, make lemonade. I have to admit, despite my mad urge to jump in and just listen to music and write about it, to go and bother people with interview requests, you know, the whole thing – these last two weeks were really hard to go through, and I am sure last week's summary reveals it as well.
There's nobody to blame, that's for sure. But I would never have guessed how this difficult situation we still live in could affect a mental health of a loved someone. However, it's the case and it's something I can't ignore – and I will never do. Therefore, even with plans being nicely drawn and all that, not everything goes as I'd love to see it.
Yes, that's called life.
Although, that's being said, the music is still around! So that's something positive, what do you say? OK, then, let's see what nice discoveries I made the last week.
Monday is always a difficult one
Luckily, I don't really remember having problems with Mondays. It's just one of the days, and because gone are the days (thanks God for that) when I was wildly partying and drinking like there's no tomorrow, I have no problem with Monday. Ever.
Although, being busy at work, I haven't really much opportunities to check any music, either new or old (and also, my attention was caught by some interesting scholarly seminars about magic and esotericism).
Except for this one – remember me talking about dangdut? Well, when you mix dangdut with my favourite drink, you'll get "Kopi Dangdut". And also a song by Mala Agatha with the exactly same title:
Tuesday is for metal
It's not always the case, but for the last week, it was true to the "t". Finally I've got time to listen to Diabolical, which is an Indonesian bestial militant black metal horde and their "Hooligans Regiment of Terror" album. And, well…it took me a few listenings to warm up to it, but after that, you can clearly hear they mean serious business:
Wednesday – did anyone say "boybands"?
OK, I think I need to explain this a little bit, haha. There's been a time when metal and non-metal genres hadn't mixed. You've been either a metalhead, or a synthpop fan (or a goth, punk or skinhead) and that was it. At least this is how I remember it from when I was a young guy.
Since then, obviously, a lot of things have changed. Metal bands often cover pop songs now, and nobody bat an eye about it.
But boybands? Well, that's different thing.
Honestly, I was interested in the Indonesian boyband/girlband scene mainly due to me liking Take That, the famous British boyband, although, to be honest, I prefer them in their post-reunion period, and I madly love their comeback 2006 song, "Patience".
From time to time I'm playing that song on my way to work and it didn't take long for me to look up some Indonesian boybands to compare.
I haven't go very deep to the past, so I know the current wave of ipop bands basically ape K-pop bands (which is OK with me), so I kinda knew what to expect.
My first choice was the band called FBI and their song "Zamrud Khatulistiwa". OK, the sound on the video was just mono, but I was surprised that they actually were closer to the 1990s classic boybands. Nothing world shaking here, but the song is catchy and girls in the video were really beatiful. What more do you want? Check for yourself:
UN1TY was next and from the very first moment you know we are into a very current phase of indopop,and – as mentioned above – quite interlinked with K-pop bands. Well, managers clearly feel the strength lies in numbers, and so the band has 8 members.
It's s happy tune, nothing groundshaking, but as long as you like the song, that's OK. Oh, and by the way, it's called "Satu":
Extraordinary 9, or XO-IX belong to the older generation of boybands, their nice video to the single "Cukuplah Sudah" is from 2011. Also, the influence from the K-pop is undeniable, however, in my opinion, they are far superior to, say, current Korean megastars BTS. Do you want the proof? Here it is:
But honestly, the next one has just blown me away! Super9Boyz, a.k.a S9B with their track "ACDC" have managed to rip off the famous "Asereje" by Las Ketchup. But believe me, it's soo cool! I really admire this daring attempt (and honestly, it's much better than the original):
From boybands, there's a logical progress to – yes, girlgroups! Dreamgirls are a brand new Indonesian girlgroup, and in the end of May 2021 they presented their single "Falling in Love". Again, inspiration flows from K-pop, but who am I to complain 🙂
​Thursday – in the name of lady rockers!
Who doesn't know the name of Inka Christie by now, should be ashamed and better go to read a review of her debut album. Although it's sometimes quite hard to find out the proper discography of the bands or solo artists in Indonesia – because you can find a lot of compilations – I've opted for "Nafas Cinta", which should be a second album of this lady rocker. To my surprise I've found something of a – well, unsurprisingly – compilation, where her material is joined together with the stuff from well known Malaysian rock band Search, on the strength of the fantastic duet of Amy Search (the lead vocalist of Search) and Inka, "Nafas Cinta".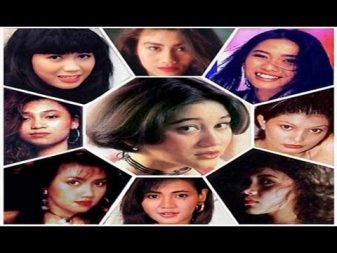 I can't count how many times I'd heard this song by now, but it's one of my favourites, that's for sure. The whole compilation is here and I am pretty sure you're gonna like it. And I have to say Amy has a fatastic voice too!!
By the time the aforementioned song has finished, I'd been in the full mode for lady rockers, and by a sheer coincidence Youtube suggested to me a song by Reny Silwy, "Mencari Dirimu". As expected, I have had no info or idea about the singer, but she looked pretty, so why not to give her a try.
Long story short, I love her voice and her song material is nice too. Thanks, Youtube, for a recommendation!
The song "Mencari Dirimu" is here:
​Busy, busy, I've been on Friday!
I won't lie, there was a lot of stuff I was listening to (or searched for) last Friday, but nothing related to my Indonesian adventures…only this short trailer from Sani Music Indonesia for Asti Rizkita:
Dangdut is very popular, soyou will find a lot of artists playing this particular genre. One of them is Lala Widy, and her song "Kentang Siwur", I am sure, would cause many open mouths and jaws droppings back home in my native country (Slovakia). It's a strange genre for us, but it's fascinating.
And then I've chosen another lady rocker. Mel Shandy is active even today (God bless her for that) and if you are an old school metalhead, schooled in heavy and speed metal, you're gonna love her "Nyanyian Badai" song. The video is unrelated (a collage for her preformances), but the song is an absolute badass!
Obviously, that just required more songs! Here!
and then… I've been struck by her collaboration with the band Gugat, covering BurgerKill's song "Tiga Titik Hitam". No questions asked, this is an absolute blast. Mel does a great job, but the Gugat's female singer Dicky is just killing everything in sight. Fantastic cover:
Just in case you'll like it (there's no doubt), the original by Burgerkill is here:
Ready for something heavier? Mannequin Goretuary has been just signed to Dismembered Records, and this is their previous lyrical video. Brace yourselves for a great brutal death metal, ladies and gentlemen:
​Saturday, where are thou!
Interesting feature of the Indonesian music scene is the existence of many religious bands, even in metal genre. While Christian metal bands are usually ridiculed by metal fans worldwide (although with the exceptions, like Aussie death/thrash metal act Mortification), Islamic metal bands are enjoying a lot of success and support. One example of it is, for example, Ben Istiqomah and the song "Sholawat Thibbil Qulub". I like it mostly for the dual vokals and the catchy melody, which reminds me of some native Ruthenian songs:
Pop-punk, I haven't been listening to it for a while, so the reminder from Edane, with their song "Kau Pikir Kaulah Segalanya" has come handy:
Revenge The Fate is a metalcore band, and to be honest, majority of bands sounds the same to me, which doesn't mean they are not interesting, especially with a good video, like the one for a song "Pembalasan". I have to be in a proper mood for this kind of a genre, but it sounds powerful and you can tell guys give their best to it. Kudos!
​Sunday, full of music you are!
Sunday was really full of music, and what wonderful discoveries have I made? I've listened to quite a few albums from totally unknown or obscure artists (to me), which I'm not gonna list here, as I will write a separate posts for them (they really deserve to be mentioned), but from a single songs, consider this beatiful track from Franky & Jane:
Yes, I was totally in a nostalgic mood! And when I've found the 1960s girl band Dara Puspita, I was totally …well, in a loss of words! Where did this come from?
But here I will stop. Believe me, I've listened to many wonderful songs by many great, fantastic artists… but because they were quite a few, let's keep it for another week, what do you think?