The progressive/psychedelic rock duo led by Ravli Ferial and Moch Ryan, Seekaam, released their first demo containing two songs: "Imprisoned" and "Twenty Tales of Life Through a Dream". The demo, which was released on August 13, 2021, is an introduction for listeners to enjoy the debut EP that will be released in the future.
The two songs in the demo are like fragments of the whole story. "Imprisoned" is an instrumental track with a gloomy and angry mood. Especially on the track "Twenty Tales of Life Through a Dream" his role is as a determination of the entire journey that will be told. The sound and material presented in this demo was influenced by several band names, including Sundays and Cybelle, Föllakzoid, Tuber and Pink Floyd.
The selection of the two songs aims to make listeners guess the story that will be told. "So that the plot can still be enjoyed even though there are stories that we didn't release on the demo and will be clear on the EP later," said Ravli. "As for the inspiration, it's just a story that was taken based on dreamland. Regret, gratitude, anger, relief are all mixed up in this work," he continued.

The recording session was done by DIY method. Guitar, bass, and vocals were recorded at the house of Agoy, who is the drummer for Alahalusa on June 5, 2021. Meanwhile, the Synthesizer recording was done by Ravli in mid-July 2021. Dani Wartabone assisted the drum recording which was recorded at DW Studio Gorontalo on June 3, 2021. Because distance, communication with Dani was also done online. According to the guide he had previously received. Mixing and mastering was done by Ravli herself in his favorite room. Meanwhile, the design and cover art was done by Moch Ryan.
By releasing this demo, Seekaam wants listeners to be free in interpreting the story and meaning of the strains that are presented. The demo can be enjoyed streaming through bandcamp and the official Seekaam YouTube. In addition to the digital version, the demo was also released physically in the form of a CD which will be distributed in a limited way.
MUSIC CREDIT:
Performed by : Seekaam
Genre : Progressive/Psychedelic/Ambient
Composer : Seekaam
Produser : Seekaam
Drum : Dani Wartabone
Guitar & Vocal : Ravli Ferial
Bass : Moch Ryan H
Synthesizer : Ravli Ferial
Mixing & mastering : Ravli Ferial
Cover Artwork : Moch Ryan H
About Seekaam
Seekaam is a progressive/psychedelic rock duo that is influenced by progressive music with ambient blends. Formed in Bandung in mid-2020, Seekaam is led by Ravli Ferial (Guitar/vocal) and Moch Ryan (Bass). In his work, Seekaam raises a big theme, namely the metaphysical world.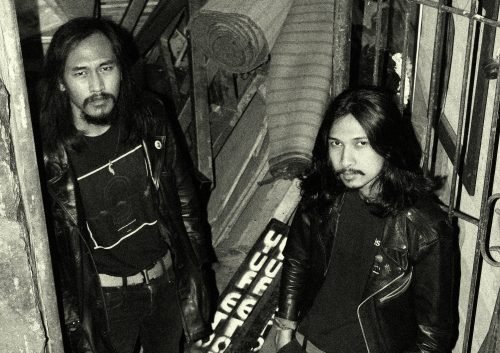 Fatigue when he was a final year student and when the world was being hit by a flurry of pandemics that made life more chaotic, instead of getting tangled up and going crazy, Ravli was actually motivated to form a music project as a catharsis. After producing some material he also tried to invite Ryan to fill the bass position. This invitation was also approved by Ryan. They also think about the vacancies of other instruments and try to find a suitable person. However, because they felt they had not found it, they chose to continue with the duo concept.
The choice of the name "Seekaam" is an additional gimmick that refers to the word "sekam". Lexically, "sekam" means rice husk. In the proverb some of us may have heard "like fire in the chaff" which means unseen bad things. Inspired by it, this duo translates it into another essence: Something that is invisible but exists; metaphysical.
The idea was deemed sufficient to represent the music they created. "Just like the music contained in the husk, we may not be able to enjoy it directly, explicitly, but there is a story in his work," said Ravli. This is because their musical works are the result of the deposition of experiences, feelings and thoughts that according to them can only be expressed through the medium of music. In addition, the pronunciation of the word "Husk" is also easy and easy to remember.
Contact:
Phone: 0812-2294-2166
Email: officialsekam@gmail.com
Instagram: @Seekaam