Interviews
Powerful against bullying: Balakatara speaking (an interview)
Balakatara has come to my knowledge basically as the majority of the bands and artists from Indonesia – by a pure chance. And it's been a while since we had an Indonesian black metal artist here in the Indokult (indeed, the interview with Tombstone seems to be like being done ages ago). But it's not by a chance that I've decided to give a shout to the Bekasi and see what's going on there! Do you want to join me? OK, then let's go!
Hello friends and thank you very much for your time in answering my curious question! First of all, how are you all surviving these not-so-good times with the COVID-19 restrictions on us?
We are fine, and grateful that currently none of our members have been infected with covid 19, we are still working individually, the difference is the time pattern and Balakatara is still fine, it's just that this pandemic is boring, there is no stage (playing live – Ed.).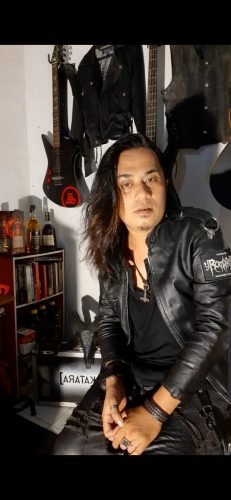 What is the current status of Balakatara? From what I found, it turns out that it started with your vocalist's solo project, Codok Canephora…is it still a project, or has Balakatara evolved into a full band? If so, who else is in the band now?

Balakatara is actually a one man, but not a one man show. Because for us the band is a team, but Balakatara is not bound by the rules that put pressure on the members. For example, if one of us does not get permission from the office where he works or permission from his wife to appear, then we will not appear or find a replacement for a while. Currently Balakatara has Reza Al Zibril on guitar, Sony Leybor on keyboards, Panji on drums and Yohanes Mikha Marley as bass player.

Your first single, in 2017, was "Dirty Synonyms". It's very different to what Balakatara has become, so, if I may ask – what was the reason for starting the band in the first place? And why the shift towards symphonic black metal today as witnessed by the 2019 single "Derogatory"?

Dirty Synonym song is a song dedicated to the wife of Codok Canephora, then made not with the concept of black metal but a pop song with metal nuances because there is a double pedal and scream voice. Because this song is for an ordinary wife, the clean voice is dominant in this song. Codok Canephora has loved Black Metal since he was in school, the black metal band he formed in 2004 was called BUSUCK. Balakatara switched to pure Black metal due to his work. Codok Canephora is a club & lounge singer in Jakarta, he performs all songs from rock, latin, pop, to dangdut. This is contrary to his musical ideology as a metalhead. So that the work remains professional and away from depression, then Codok Canephora formed Balakatara as in the contrast in music whose mission is to fight all forms of bullying.
I have to say I like your visuals, which is more of a gothic black metal mixed with psycho-clown imagery (no offense, that's great) than the usual black metal imagery, do your song lyrics reflect more traditional black metal? What message do you want to convey to your listeners?

Balakatara's lyrics are against bullying, if in the past black metal was identified with satanic [themes], then we highlight satanic in humans, who incite to bully others, bad thoughts. Balakatara's important message from every lyrics that is made is, we must not judge anyone or have the right to belittle anyone in music, because musical improvement, musical maturity has stages and everyone has those stages. The reason Balakatara was formed is because Balakatara sees that there is still bullying even in the black metal genre and those who are bullied from the same genre.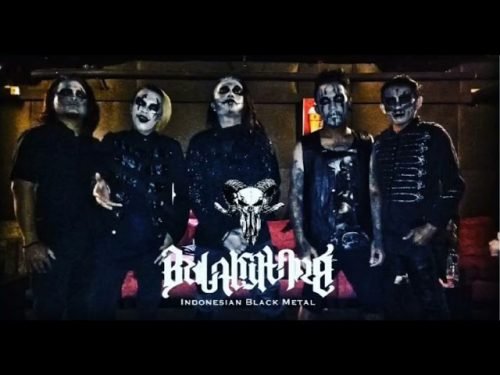 Your video has been created by Dear Studios, what can you tell us about your collaboration? How did you find this creative outlet?

The owner of Dear Studios is @denyjoe_ or familiarly called Joe, a visual artist who usually works with Indonesian film actors, namely Reza Rahardian, Djenar Mahesa Ayu and others. Joe is a friend of sir. The frog of Canephora, Joe is not a metalhead but he is involved in all forms of visual art making of Balakatara. It's an emotional connection of friendship that is not measured by money.
One disadvantage of exploring Indonesia's vast music scene is the relative (and sometimes absolute) obscurity and almost no available information for many bands (and one of the reasons Indokult.com exists is to change it). Therefore, I may have misinformed, but Balakatara should actually release an EP titled "Humiliation War Trilogy", is that true? If so, what can you tell us about the preparation, what songs were in it, when and by whom was it released?

That's right, we have already done 6 songs for the EP "Humiliation War Trilogy", just need to print and packaging, we already have a plan on how to market this album. Our plan is to only make this in a a small quantity and in a limited edition, we wanted to release 17 exclusive boxes which include CDs, T-shirts, Flags & Condoms. But the Covid pandemic has hit, we will go through it.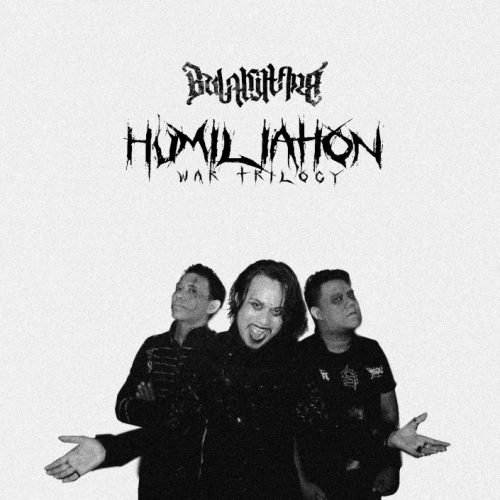 This question may have something to do with the previous questions…in 2019 you are one of the candidates for Wacken Metal Battle Fighters Indonesia…and according to your information, you are still a trio…how is it going? How do you remember this event? Are you planning to fight for a place at Wacken again?

Band formation in Balakatara can change, depending on who's available, we don't use the old way of playing bands that are bound to be solid with the same line-up, neither we are afraid to add new members, at that time there were 3 people so we kept going. What is introduced is not the human [element], but the work and the image of the band. One of the requirements to join Wacken is that each band sends 3 original band songs, we just want to show that we have more than 3 songs. That's all.. we play all over Indonesia, as long as we can and ok then go! Because the vocalist of Balakatara is not only a club singer, he is also a lawyer, currently completing his Master of Law to become a lecturer, our time is very limited.

And for live gigs, what are the conditions in Bekasi and in your area for performing live gigs? Do you also play throughout Indonesia, or only locally?

Same situation, no play

The metal scene in Bekasi is quite big (I don't even know all the bands there), mostly death metal and BDM genres, but there are some black metal ones too.. how is the collaboration between bands in the Bekasi scene? Any good bands you can recommend our listeners to check out?
Black metal in Bekasi dimmed, this became one of the reasons Balakatara was formed, then a project band from Eggi Viscral emerged called SLFR / SELFAR. This band's genre is post-black metal, it was formed by death metal band players, this band seems to have been formed a long time ago.

What are Balakatara's plans in the near future? Any new material you might be working on?
Balakatara has just covered the song from Michael Heart, "We Will Not Go Down", for us this is the biggest bullying of the state of Israel on Palestine, majority of the work is done, it's just to wrap it and share it at the right time.

Is there any merchandise you can offer your fans? If so, where should they look for it?
Oh, sure, but it will come out with our CD later.

Ending this delightful little interview – any final messages for our readers? Thank you so much for your time and all the best to Belaktara!!!!
Thank you, Indokult, the most important message is to start, even though it's not necessarily true, and if there's a problem, then to fix it. We can define black metal as anything as long as we can be responsible for it.
Balakatara on Instagram: https://www.instagram.com/balakatara_blackmetal/