On February 2nd, 2002, metallic-hardcore unit from Malang NOOSE BOUND released their debut album, "To The Same End". Co-released by Samstrong Records (Central Java) and Set The Fire Records (Jakarta), the album will contain 10 songs exploring various musical elements ranging from death metal, beatdown hardcore, mathcore to post-hardcore, but still trying to hold fast to the hardcore punk grip which is the main foundation of their music. Taking references from various hardcore metallic bands from the 90s such as Disembodied, Zao, Earth Crisis or Merauder, as well as bands from the current era, such as Knocked Loose, Code Orange, Jesus Piece or Incendiary, the band packs all of their material with a heavy sound complemented by a dark feel, the character that they have carried and has become their hallmark.
Presented with introspective lyrics in a rhyme full of anger, anxiety, despair, as well as self-reflection that all revolves around the line of life and death, "To The Same End" seeks to blur the boundaries between hardcore and metal by bringing their listeners to enjoy dark riffs in the dark. with hardcore punk beats, 2-step, down tempo, blast beats, to explosive and energetic break downs. A song structure – minimalist in repetition, but still maintaining the groove on each track – Noose Bound strives to sound catchy and bouncy even though it has a chaotic touch at the same time, avoiding songwriting that is generic, cliché, and predictable.
Coupled with the appearance of several guest vocals from the local Malang scene, namely Nanda from Sharkbite on the track "Serpent, Servant", Fauzi from Hand of Hope on the track "Lost in the Plot", also soloist Patricia Levyta on the closing track "Idle Call", adding to the dynamics. alone throughout this album.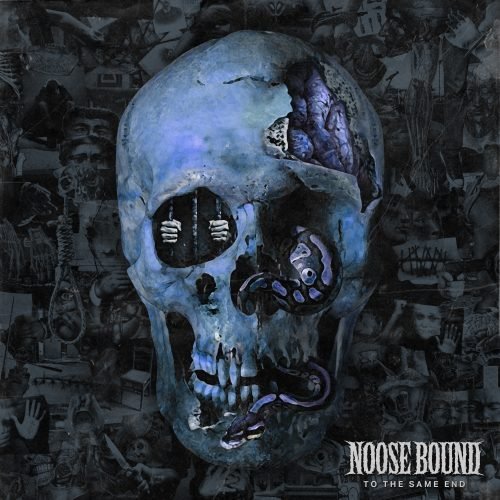 The audio engineer and co-director of the album, Satrio Utomo of the band Screaming Factor, managed to polish this album to the maximum by providing a modern and fierce sound, adding to the 'cruel' image of the band. The selection of Helmi Brillian of the band Interadd as the illustrator to interpret the lyrics into the album artwork also shows Noose Bound's intention to involve as many activists as possible from their hometown scene to take part in their first full-length album. Before "To The Same End" was released, the band consisting of Bagas (vocals), Alfin (bass), Devrizal (guitar), Icang (guitar), and Rio (drums) had already released a series of enticing singles such as "Paint Me Red", "The Needle", "Lost in the Plot", to the latest "Haplessburg" on various digital channels.
"To The Same End" is the ammunition filled with anger from Noose Bound that is ready to be poured into rock music lovers in their guerrilla from stage to stage this year.
Bandcamp: https://noosebound.bandcamp.com/album/to-the-same-end