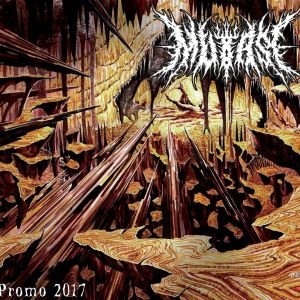 Mutasi means "mutation" in bahasa Indonesia and it's also a name of the brutal death band from Karawang. So, again, we're all over the map of Indonesia – last time I've reviewed something BDM, it was the album by Twin Force Kill from Jakarta.
I've got the promo of Mutasi om the great Indonesian brutalizer boss Dede Supriatna (Inherited Production) some time ago but somehow it keeps slipping through my fingers. Until now.
I remember the release mainly for the fact that the cover was oversized, so I couldn't put the CD into the CD case. Well, sometimes that stuff happens, and because it's nothing I would cry over, I just keep it as I've received it.
If you keep attention to the Indonesian extreme metal scene,then you know there are quite a lot of bands from Indonesia shopping around for their release with promo CDs, and Mutasi was no exception.
Titled simply as "Promo 2017", this is the band's only official material, as far as I know. So, what did they offer here?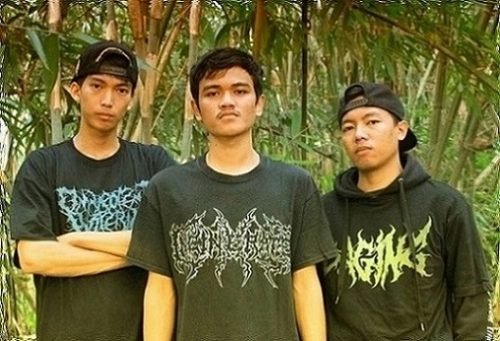 This trio of extreme music lovers doesn't fool around, and after a warm-up in a form of "Intro" they invited us to be a witness to "Punishment The Infidels".
Musically, it's a well-crafted brutal death metal, with all the bells & whistles one might possibly want from such material. That being said, some might complain about the lack of some distinctive or recognizable feature, however, I'd consider this just a nitpicking. You can't have every band being different from all the others. And guys from Mutasi are well aware of the limitations of the genre, therefore the changes in the song. For a BDM track, this one is pretty melodic, I'd say. And I like, too.
Third, and the final, track on this promo is "Human in Hell" and I'd dare to suggest these two songs were either recorded at different times, or they are from entirely different stages of the band's history. Here – unlike in "Punishment The Infidels", the vokills are pretty muddied and the riffs are simplified towards the slamming BDM a bit, although not without trying to be different a bit.
Still, Human in Hell" comes inferior to "Punishment The Infidels" (in my opinion).
And that's the "Promo 2017" done. 3 tracks, 8:36 total playtime.
Guys still have a presence on social media, so in case you're interested in getting in touch with them, check
Instagram: https://www.instagram.com/mutasi_iddm/
Facebook: https://www.facebook.com/MutasiDM