News
Indonesian news
Knockdown Releases Emotional Single "Despotic" about the Dark Moment of Pandemic
Knockdown, a name that is always worth anticipating, returns with their latest single entitled "Despotic". The song carries a heavier and darker soundscape, like dark hardcore metal that reflects the deep emotions and unwavering elan of the band.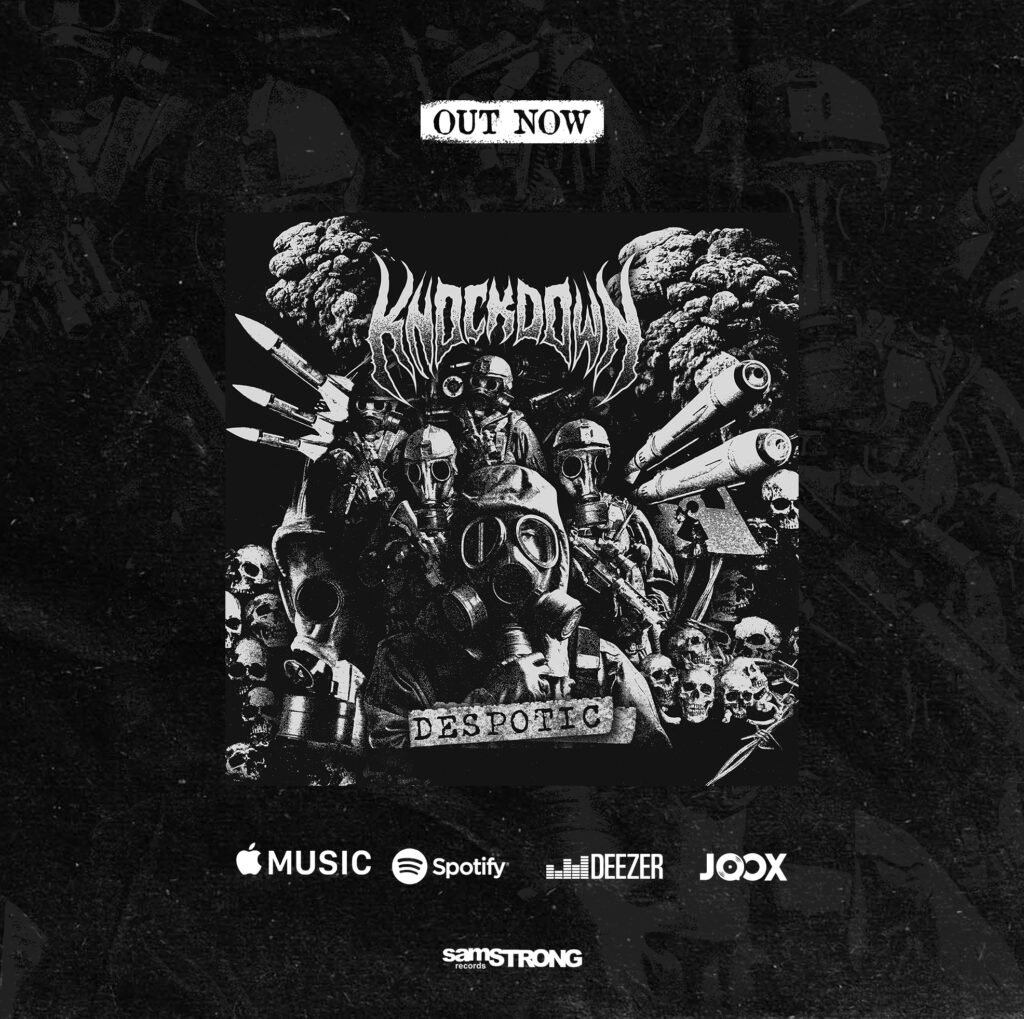 The formation of Knockdown started from a class at Sekolah Menengah Musik (SMM), Yogyakarta. At that time, they were bored with the classical music material learnt at school. Starting from September 2009, Phitexalfi (vocals), Yoqka (guitar), Komo (bass), and Pentol (drums) presented a musicality that reflected the strong influence of names like Hatebreed, Animosity, and Sworn Enemy. However, a few months after forming, in 2010, Pentol resigned and was replaced by Yosi on drums. This quartet helped energise their formation until now.
Knockdown's journey reached its peak in 2011 with the release of their demo EP titled Modal Kecu under Samstrong Records. The demo generated a lot of positive responses from listeners as it combined Javanese rap lyrics with the full rhythm of heavy hardcore beats. Knockdown's passion didn't stop there, they performed with some of the biggest names in the international hardcore scene such as Relentless, Abhorrence, No Turning Back, Backtrack, Madball, and Sick of It All, leaving an unforgettable mark on their musical journey.
Jumping into the year 2023, Knockdown returns with the single "Despotic" after a seven-year break since their debut album The War in 2016. Clocking in at around 3 minutes, the song immediately takes the listener on an intense and dynamic musical journey. The sounds produced from each member sounds energetic and gives the song a strong pulse.
"Despotic" is not just music; this single is a mirror of Knockdown's emotions during the difficult times of the pandemic. difficult times of the pandemic. The lyrics showcase the frustration of solutions, the disgust of unfulfilled promises, and the spirit of unfulfilled promises, and the spirit to rise to the occasion. "People are dying, they have got no breathing, can't you see? We are not your enemy" is a powerful reminder of the the struggles of many people who have been victimised by the Covid-19 pandemic.
Samstrong Records has been a friend in Knockdown's journey since the beginning to grow in the hardcore scene; from releasing the demo EP Modal Kecu (2011) and debut album The War (2016).
Seven years later and still able to collaborate again on the release of "Despotic", is a joy in itself.
"Despotic" can already be enjoyed on various digital streaming platforms, not only that, this single also comes in the form of a lyric video. comes in the form of a lyric video. Experience the uncompromising musical intensity that only Knockdown can deliver. by Knockdown. Amidst the uncertainty of today's world, their music is a voice of struggle, reminding us that even in dark times, our spirit will never be extinguished.