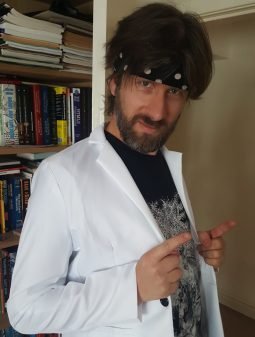 What a week it was! Work and relax (a little bit of it) on repeat through the weekdays, then chilling with the family during the weekend. That I wouldn't mind being on more frequent repeat, haha. But that's life.
So, if you are curious as to what nice finds from Indonesian music (and other areas of cultural/social life) I've found this week, you're at the right place! Let's start, what do you say?
Regi Levi is a young aspiring rapper from Indonesia, currently residing in sunny California, and I've somehow landed on the video to his song "Sendiri" (ft. Ben Utomo). I've said it many times before, and I will say it again – I am not really a fan of modern hip-hop (or rap, if we want to be precise), but once in a while there's a song which I don't mind. "Sendiri" is quite a nice tune and it's made me to get in touch with Regi, so I hope to talk to him about his music a little more in the near future. What's your opinion about his song?
I will digress for a second, but as you know, Indonesia and Malaysia have been once a vast area under the Dutch control, and therefore the similarity of the language can confuse one (me!). Not that I complain – I've ended up watching this nice compilation video of Malaysian female rockers and I am pretty sure no one will object to that.
Thanks to it, I am now aware (at least a bit) of singers like Tania, Dilla Hussein, Roxa, Shima, Ella and Emma. I, for one, was more than satisfied:
I've stayed on this subject for a great part of the week, getting to know more of Inka Christie's music. As you might know (this refers to non-Indonesian readers), Inka is one of the Indonesian lady rockers from 1990s and I do really like some of her songs!!!
First, I've found this nice compilation with Inka being accompanied by the superstar singer Nike Ardilla and Nicky Astria:
And then, her first album, "Gambaran Cinta":
Some of the Indonesian bands don't have much material out online, which is the shame, but you'll definitely enjoy what do they have, such as in the case of the horror punk band Ejakula La Vampira
and their song "Rotten Dig":
Getting heavier!!! Wrecking With War have their debut album out through Deathwish Records and before I am able to listen to it, I've checked this nice video of the band playing live:
One wouldn't guess you can find a Indonesian country music (I mean, the country as we know it from the USA), but you can – and it's good!!! Leon Travis is a young country singer from Indonesia and this is his single:
And back to Inka Christie one more time. My favourite ballad, originally, if I am not mistaken, sung together with Amy Search, was re-released in December 2020, and Inka was joined with Nike Ardilla (post-mortem) in a very emotional duet:
Would you believe I'm a fan of a pop music? Of course you would! Keyne Stars has a new single out. Don't ask me more about it, but I like the mood-lifting melody:
It's definitely a mystery how one can switch genres like that, but from i-pop…here's the Indonesian black metal! Dhemit from Purbalingga is a band I've come across by chance, and it's a proper underground!
Another video and another change. As mentioned before, Indonesian music scene is huuuuuge, and new (and for me, even old) bands pop up from every corner. I do really like compilations people make of their favourite bands – although yeah, it's bootlegging, at least from my point of view, I can find more interesting artists and their music.
Such is the case with Tipe-X, J-Rocks, Tere and Pas Band. Never known them before, but now I know. And you do too:
Thrash metal band Babirusa (from Malang) has a new album out, but I've been listening to their previous work, the 2020 "Humanoid":
I've heard her two other albums, and this last week I've managed to find her sort of comeback album too. One of my favourite lady rockers from Indonesia, Yosie Lucky and her 1993 release "Emen":
How did I end up listening to Sapujagat? I don't really know, but I did! This is their lyrics video, and if you like slow rock, you might like this as much as I did:
Be careful now, we're entering underground again! Interesting compilation from Cicurug Gerilya titled Bergerilya presents enough bands for your to enjoy for almost one hour! With bands Sanskerta, Rising The Sun, Humanerror, Forgeus, The River, Bacot, Belator, Budastic, Fortior, Honesty, Necra, Vaginal Damaged, Lidah Sembilan, Brian Out, Rebirth. Again, some of the bands might be found nowhere else, therefore compilations like this one are extremely important for fans like me. Go give it a try!
Crusty grind from Jakarta. That's the description of Total Damage. This is their song "Modus Otak Si Tamak". Nothing to dislike:
Absolute delight! That applies to Chaos Squad without any doubt! "Paradoks" is their song from 2019 and it kicks ass with a full force.
Because the Indonesian music scene is still a new one for me, it doesn't really matter for me to hurry up and try to check the latest releases as soon as possible. I am more than happy to revisit the older stuff, for example, Altarscream and the song from their 2015 album "Merah Putih" titled "Total Rusuh":
Again – the pendulum swings and brings us to more extreme genres…good example is Amorfati and their new song "Mimbar Barbar". Excellent stuff, if you are into the brutal death metal music:
Amorfati is released by a great label Brutal Mind, who released also this 2020 album by Kaligula. And I did listen to it too (as you've guessed):
No Excuses are from a different direction, if you remember me mentioning Whizzkid, the 1990s Indo-rock band, then you should know this band features the Whizzkid guitar player Ayat. It's nice to experience the rock music with a different flavour, that's for sure:
And that would be it for this week. Sure, I am more than convinced the 99 per cent of people reading this listen to more music than I do 🙂 Well, thumb up goes to you and I am really jealous now 🙂 Just kidding, of course, but life takes its toll. Not complaining, just explaining.
People, enjoy the music and support the artists!!!!
Check also my previous "Indonesian adventures" post!