Interviews
Headhunting in Borneo (an interview with Hunter of Borneo)
If there's one genre Indonesia excel in, it would be brutal death metal and its related subgenre, slamming BDM. Not kidding, it would be probably impossible to cover all the bands from the said genre (and I'm not gonna try it). But every day one can come across an interesting band. I know I keep repeating myself, but since Indokult is dedicated to promote Indonesian music (among other things) and especially to promote the less known, obscure, or new, not yet firmly established bands (and labels), it's my pleasure to bring them to your attention.
One of such bands is the slamming BDM ensemble from Barito Timur (Central Kalimantan) Hunter of Borneo!
Hello, guys, and thanks for doing this interview! Let's go straight to the first question – what's the current line up for H.O.B.? I'm asking, because some of the band pics show 3 members, others only two…so, what's the current situation?
At the moment HOB has only 2 members, because 2 other members have decided to leave band. There will be no more changes, only when we perform live, we will be a trio, filling the position of drums with a live drummer, but the line-up for now is only 2 people, namely Molla (vocals) and Ano (guitar).
With this question being solved, can you get us (and the readers) back in time and tell us something about your beginnings? What has inspired you to start the band and why such an interesting band name?
I will tell you how Hunter Of Borneo was originally formed. The band started back in 2016 with the original line-up of Molla, Ano, Bagia and Lerry, playing slamming brutal death metal. Why we've chosen the name of "Hunter of Borneo"? The story might be funny, but we've been watching how Dayak people hunted using stars [for orientation] and such, and seeing that we are not proficient in hunting, to represent that we've chosen "Hunter of Borneo" as the band name, to describe that we are from Kalimantan. Maybe the story is a bit eccentric, but it's a true one. But we've formed the band, because at that time the underground scene of Kalimantan was very big, and many friends also started to play in bands, so they can take part in various festivals in the local area, however, in 2018 2 members decided to leave the band for one reason or another, because they've wanted to focus on their education, so initially a lot of material which has been prepared had had to be postponed, having a change of line-up. But people who had joined never lasted long, because they did not have a vision and mission to move forward, and for that reason we decided that there would be no additional members, only two of us.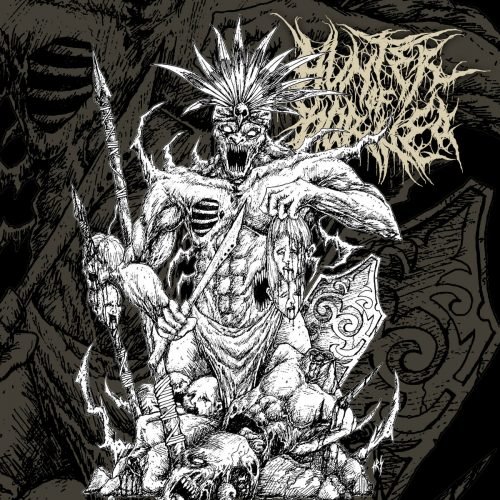 In 2020 you've released – through Sadistic Production from Garut Kota – your first official material to date, "Promosick 2020". What can you tell me about the preparation of this promo? How well was it received? And not to forget, who has created the artwork for the promo?
The preparation process for the promo was very long, because there were just two of us, so we arranged everything as best as we could. We've been working on our material for about 5 years, to finalize the concept of music, lyrics and arrangements. On those two promo tracks we were also assisted by brother Putra from Smack Disease production, who helped with drum programming, guitar and mixing/mastering and helped us to get signed to a label from Garut, Sadistic Production. The label produced everything, praise God, the physical copies were all sold out and were very well received by all our friends in Kalimantan and beyond, which made us very grateful that the work could be enjoyed and welcome with enthusiasm from all of our friends.
"The Head Hunter Sadistic Slaughter", the second song from the promo, starts with the interesting intro. I hope it doesn't mean to scare visitors from visiting Borneo! 🙂 I hope I won't offend anyone now, but let me ask you anyway – do you get the ideas for the songs/lyrics etc…from the local history of Borneo? Like from the stories about the native tribes etc…or do you just use it as an imagery?
Actually the lyrics of the cave song entitled "The Head Hunter Sadistic Slaughter" are taken from the story of the Dayak people in ancient times, who often hunted for food or [tried] to protect themselves from disturbances by other tribes, therefore this song is a small picture of the history of the Dayak tribe, but along with the development of culture the hunting has begun to disappear and was swallowed up by time, therefore we've tried to bring it back, so that people know the awesomeness of the Dayak tribe in ancient ages, so that the memory remains alive and remembered by everyone.
I've already asked about the reactions to your 2020 promo. Did you get any offers for the release of the debut album or EP? Anything we can look forward to?
Indeed, on September 15, 2020 we released an EP entitled "Promo 2020", which contains 2 tracks, released by the Sadistic Production, this EP is the bridge to our debut album in the near future, just pray for the end of 2021. We will announce the release of our album soon.
I've seen some pictures of the band playing live…what can you tell us about the local concerts or festivals (if there are any) in Borneo? Which one do you consider your best to date?
Before Covid-19 attacked the world, there were many events, such as MAXIMUM DISTORTION, PALANGKARAYA DEATH FEST, BORNEO METAL CAMP, the biggest festival is in East Kalimantan, namely ROCK IN BORNEO. Due to the pandemic, everything has been postponed, so that's why we use the time to be productive, preparing the material for our first album.
And when mentioning local scene..I am aware of a few bands from Borneo, although from the limited information it's hard to say which ones are still active or not. What bands would you recommend to check? Any interesting labels or distribution services?
There are so many bands in Kalimantan, especially the death metal genre, that are still active today, such as DEMONIC CADAVER, SEDERAI MUTILATION, MACHINE ANATOMY, ANALECTOMY, ILEGAL, KOMBENK, COUNJURING, NATURE OF DEPRAVITY and many others, just to name a few that are still active in the underground music scene in Borneo. we don't know much about the big label in Kalimantan, namely DISTORSI, which is located in East Kalimantan, that's why many Kalimantan bands are always released by labels from Java.
There are a lot of bands in Indonesia playing extreme music, and sometimes they have problems from the government. Do you experience anything like that in Borneo?
In Kalimantan there is no problem playing extreme music. It is always supported by all parties, and often the government supports the event and provides funds so that the event can be carried out without any problems.
As Borneo is an island, how is the situation with Covid-19 there at the moment? I hope you're getting out of this pandemic restriction soon!
In Kalimantan, as in other areas around the globe as well, because of Covid-19 many activities and events have been delayed, the music movement has become silent. There has also been no music festival for about 1 year.
What are the plans for Hunter of Borneo for the rest of 2021 and the future?
The big plan for 2021 is to finish the working on our first album, so all our friends can enjoy it as soon as possible, and to stay productive in the future. A tour to all regions of Indonesia after the album release is also planned.
Any final message to the readers of Indokult?
To friends in Indokult, pray for us so that everything runs smoothly and the pandemic will quickly disappear so that we can enjoy the special world of underground music as usual. Warm greetings from the land of Borneo, stay healthy and always productive with all the work you do.
Listen to "Promo 2020" here:
Facebook: https://www.facebook.com/Hunter-of-Borneo-1560038587626201
Instagram: https://www.instagram.com/hunterofborneo__sbdm/
Sadistic Production (Bandcamp): https://sadisticproduction1.bandcamp.com/music