Obviously, even doing the reviews and recollection of other genres, we can't forget what Indonesia really excels in – the extreme metal. Death Fantome from Medan (North Sumatera) are quite an obscure Indonesian band and yet another example of technical death metal done right. And so we're gonna have a look at their only official material.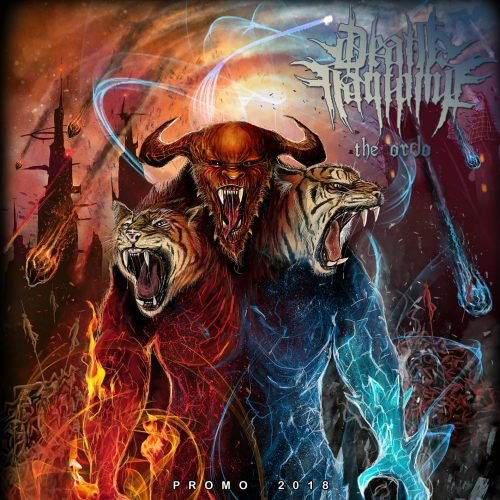 "The Ordo" from 2018 is really a promo – short intro and three songs, all done in 11:21 of total playing time. Still, it gives you enough insight into the band's creative spirit. And the cover artwork is fantastic!
The "Intro" doesn't betray the genre you're going to listen to, not at all. If I haven't known beforehand, I'd guess some atmospheric black metal – but nope, this is really a technical death metal through and through, as next song confirms.
That next song carries the title of "Ordo Druid" and if you like the genre mentioned above, you're in for a treat. It's not overall technical (you know, those virtuosos playing different notes through the whole songs to show off how good they are, but failing to grasp the whole point of doing song, which is to entertain, I guess), but don't expect any faking. Guys are very good (like we would expect anything else) and they have a collective ear for a good melody too.
The same applies, and maybe to even more extent, to the second song (or the track #3, if you wish) with the title "Mr. Amanita". Yes, after some repeated listenings I can tell this is even better than "Ordo Druid". Not that the opening track is bad in any way, but this one kick some serious ass, really. Oh, I have to give it to a vocalist, great vokills!
The last song of this nice promo is at the same time the longest track. It's called "Destruction" and it slays mightily. Heavy riffs and again, melodies encompassed with the technical stuff, that's how you do it!
Overall, the promo gives me that nice old-school vibe, when I was listening to albums on my old trusted tape player…do you remember, just doing stuff with the music in the background? And it sounded good! That kind of a feeeling I have while listening to Death Fantome. I am definitely not disappointed.
Probably the only criticism I can write is an expected one – where's any more material? Yes, it always frustrating when you listen to some good new band you've discovered recently and then you realize they really have just a few songs released. I guess it's about time to learn why, as I am wondering – why is this band not signed?
Facebook: https://www.facebook.com/DEATH.FANTOME.METAL.MEDAN/
Full promo: https://www.youtube.com/watch?v=HBC7yC8aO0Y