Interviews
A stands for Aceh (an interview with SHADOW FOR MERCY)
The very first character in the alphabet is "A", so it's only logical we will start our musical journey through the cities and towns of Indonesia with Aceh. Or, to be more precise, with Banda Aceh in the province Aceh.
And for this round I've picked up for you a nice metalcore band going under the name SHADOW FOR MERCY.
So, without any further delay, let's discover some facts about them. Here we go!
Assalamualaikum, teman-teman! How are you doing these days?
Wa'alaikum … very good …
For people outside Indonesia – and, basically, from outside a Muslim world – it's quite difficult to imagine a metal band coming from an area such as Aceh. Therefore, I hope you won't mind to ask you about it…how difficult is for a rock/metal band to exist in Banda Aceh? Do you have to overcome any obstacles to play your music?
Actually for a metal band to exist and survive, especially in Banda Aceh, generally Aceh is very difficult, because in terms of the metal community it is still very small, and accompanied by a paradigm or way of thinking of society towards metal music and the like is still negative, plus in terms of events it is also still very lacking, and the obstacles that we have to overcome in the future must give up time, finances to be able to perform at events outside the region.
I know SFM started back in 2012 – what can you tell us about your beginnings? How have you come to the decision to start the band? Did you have any musical influences you can mention, either Indonesian or worldwide?
True, the beginning of the formation of Shadow For Mercy (SFM) in 2012, because at that time I personally wanted to have a metalcore band to be able to further channel my hobby and explore my music, and invited several friends who were passionate about metal music. So we started by covering outside metal bands that influenced our musicality such as Trivium, Bfmv, In Flames, Machine Head.
Who were the original band members and how much the original band line-up changed over the years? I know you were a trio for some time, when did you get a fourth member? Oh, and I have almost forgotten… 🙂 What's the current line-up of Shadow For Mercy?
The first to join and the founders of the band were me (Feri), Abenk, Herza and Dedi.
At that time we were still covering foreign metal bands, until finally due to busy work and had no more time for the band, one of our members, Abenk, decided to leave the band.
After that, the band was in a vacuum. And in 2015 I made some demo songs, which I've wanted to release with the band, finally I invited the remaining members to continue with the band, at that time we were running with a three-piece formation, there were two songs at that time that I created "Kill Me" first and then "I Will Rise", and as time goes by and the band is active, we are determined to complete a few more songs to make an album.
To help fill the void in the second guitar part during the performance at that time we asked for help from friends.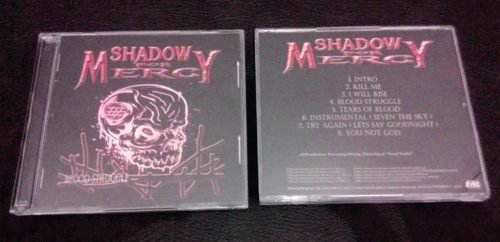 I might be mistaken, so please, correct me, if I am wrong…in 2018 you released your debut album "Blood Struggle". Let's discuss it for a moment…what's the meaning behind its title?
Yes, we released the Blood Struggle album in 2016. This album tells a lot about the bloody struggle that we experienced during the making of the album, and was also influenced by some stories about the region, war movies and struggles.
In addition, we also worked on this album independently with makeshift recording equipment in the room.
Obviously, we can't skip the question about the lyrics – who's responsible for them and what message your music and lyrics want to convey?
All the lyrics were written by the vocalist and guitarist Ferry, his message and lyrics of this album tells about anger, despair, struggle, sacrifice.
I am aware of a few metalcore/metallic hardcore bands in Indonesia – what was the reaction of public back home in Indonesia and abroad to your album? Any memorable reviews you might be able to mention?
The response is very good, but we feel that it is still very much less than optimal due to the lack of promoting this album more widely.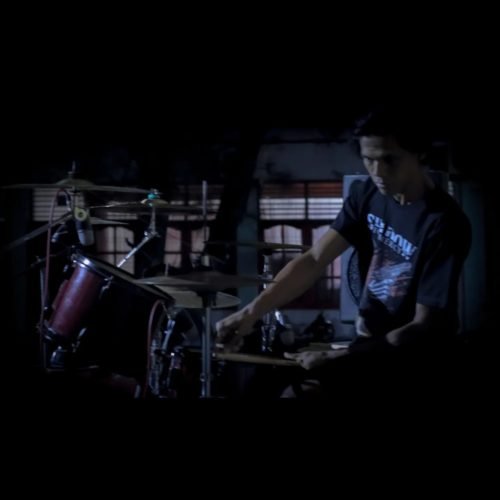 I know you've recently played live after quite a long time…what was the cause of the break between your live performances? Of course, Covid-19 pandemic would be a major factor, if I am not mistaken…
Covid has definitely affected all activities.
Mentioning the live performance…can you tell us something about your last one? What other bands did you play with there?
It was a show at a university in Banda Aceh. Of course we are very excited to be able to return to live performances after so long inactivity.
The year of 2023 is in a full swing, so it won't be out of place to ask about the plans for the band for the rest of the year…do you have any new gigs agreed, or maybe some new material released?
For the current schedule of performances we are still looking into it, actually we have released a work at the end of last year entitled Please Forgive. You can check it on digital music streaming sites.
OK, let's dream for a moment…what band/artist would you love to share the stage with?
Every band wants to play a gig with their idol band.
And back to reality… I am well aware bands usually don't press a lot of CDs, so I assume your album is sold out already, am I right? As for other merchandise – t-shirts, patches, whatever… do you have anything your fans might want to look for?
Yes, for the Blood Struggle album we only printed a few CDs and T-Shirts.
Before we are done – the purpose of this series of presentations/interviews is to let readers discover artists from Indonesia they wouldn't be able to find otherwise (most probably). Therefore I need to ask – what the local Aceh scene looks like? Any good and promising bands and artists to recommend? How about any interesting non-metal acts, say, from dangdut scene, pop Indonesia… I have to say, I love dangdut koplo, but I know not everyone in Indonesia looks at it with a positive eye…what's the situation in Aceh? Is it allowed to be performed?
After covid like other regions in general, music performances have started to activate after several years of no performances. The local Aceh metal music scene itself is still trying to stretch in addition to many new metal bands that have begun to emerge.
And we arrived at the end of this short interview. Any final message for the readers of Indokult?
Read and listen a lot, because now in the digitalization era it can reach almost the whole world.
Band contact: https://www.facebook.com/ShadowForMercy